March 11, 2022
Posted by:

Bogdan

Category:

Crypto, Cryptocurrency news, Fantom, Rekt
A recently taken down investigation by Rekt News about the Fantom Foundation dug into several moves that could point to a lack of transparency from the DeFi platform. The article had called it "an elaborate scheme," but apparently failed to approach the subject with enough accuracy.
1-2 hours after publishing the piece, Rekt deleted it and tweeted an apology. An archive from the original investigation can be found here.
This response from Rekt was not seen as clear enough by their readers. Why didn't they publicly clarify their mistake? Several users have pointed out that it is fundamental for crypto journalism to carefully fact-check allegations because they could have an impact on the market.
However, the readers who debunked the investigation also added important data and signaled that there might still be gaps of information about Fantom that need to be looked into.
A Quick Sum-Up
Following the news of Andre Cronje and Anton Nell leaving the DeFi and crypto space, Rekt took a look into the first wallet of farm YFI (wallet 0x431), which they had previously started to investigate.
"We found that 0x431 had an unmatched level of power over the entire network, all in the hands of one EOA wallet."
Seemingly, the 0x431 wallet had made huge transfers in FTM over the last 5 months ($750M in FTM) "using another address as a buffer before sending to Binance." This and many other details found by Rekt suggested a "centralised money-making scheme" and "gross mismanagement of their foundation funds."
Rekt interviewed Fantom, but the answers –or lack of them– did not clear up their many assumptions and raised more concerns, which led the investigation to believe that "basic operational security measures are simply not being met"
"Either the foundation is lying, or this is a gross mismanagement issue from the Fantom Foundation."
The Inaccuracies
A Twitter user shed some light and debunked one by one most of the claims published in the article by adding overseen valuable data. They also stated that the kind of investigations conducted by Rekt are crucial for the crypto and DeFi environment, but this time they "missed to spot the shady practices."
The user explained that "The wallet in question [0x431] sent FTM ERC20 tokens to Binance ETH and then withdrew it to the same wallet address on Fantom. Why? To fuel the bridge with Fantom native tokens."
This was verified by the CEO of Multichain, Zhaojun:
"I can confirm fantom guys use 0x431e81 account to reblance the Multichain bridge's fantom liquidity.

1. Deposit FTM-erc20 to Binance,

2. Withdraw native FTM and deposit to Bridge. https://ftmscan.com/tx/0xa16cc05ccb8a2c5ced10ae0ba80fd1dff736fff19b18d2c277d457725dce4202…

3. Repeat steps."
The other wallet in question, 0x579, also seems to be a bridge, although the Fantom Foundation had claimed otherwise.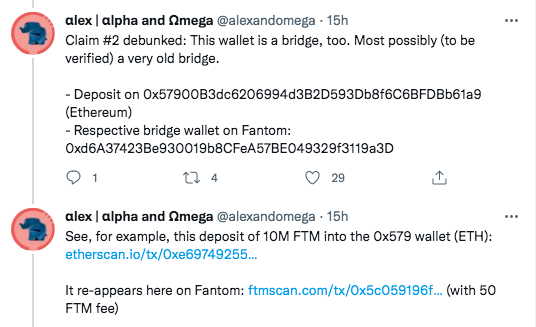 The user added that "it appears not ALL FTM which entered Binance on Ethereum reappeared on Fantom. Yes, the majority did, but further investigation in exact numbers would be useful."
Rekt had noted that the wallets in question made huge moves during a period of increased FTM FOMO, but the quoted user finds that this makes sense since "in this time A LOT of people wanted to enter Fantom Network via the bridge. So the team put more effort into fueling it with native FTM."
However, some questions done by Rekt remain open, like why are the foundation's funds not being stored on a multisig?
The Foundation had also claimed that the funds from wallet 0x57900 were in part supposed to be for the incentives program announced in August along with other FTM that the foundation holds. The cited user also considers it important to know "how & to whom (and why) incentives are distributed."
NewsBTC reached out to the Rekt team with several questions about the investigation process behind the article, but they did not reach back for comments.
Some have claimed they are liable for losses.
The Fantom Foundation released a statement alleging that Rekt had made "many false claims about the Foundation" and seemingly attempted to calm the investors' concerns over Andre Cronje's departure. It does not seem like they will be taking legal measures against Rekt.
Fantom Price
Fantom (FTM) has responded with a downward movement to the news of Andre Cronje and Anton Nell leaving the DeFi and crypto space. FTM also seems to be following the general crypto market trend and it is down 5.12% in the last 24 hours.